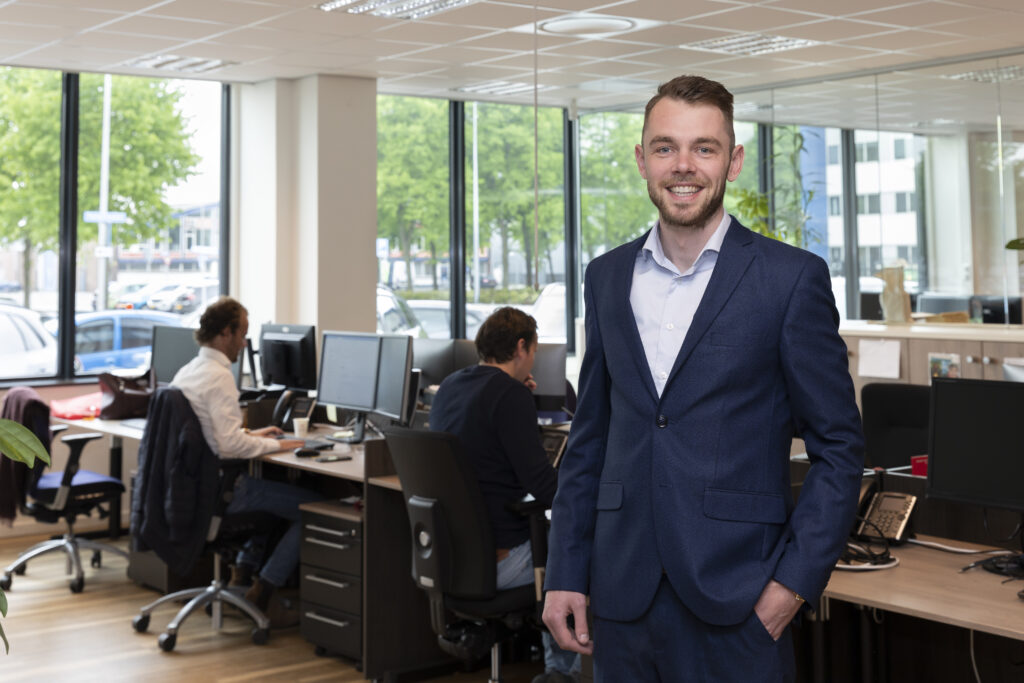 'Hoi! Mijn naam is Cas van Liempd, Head of Finance bij C. Steinweg-Handelsveem. Ons team debiteuren – crediteuren is aan versterking toe. Wij zoeken daarom een allround debiteuren en crediteuren medewerker die dit team komt versterken.'
Over Steinweg
C. Steinweg-Handelsveem is een internationale dienstverlener in de opslag, stuwadoring, expeditie en andere gerelateerde logistieke diensten. Dagelijks helpen we onze klanten om hun logistieke vraagstukken op te lossen door middel van standaard- en maatwerk oplossingen. We bieden onze klanten ook de mogelijkheid om gebruik te maken van extra dienstverlening zoals het schoonmaken, bewerken en verpakken van commodity's. Door middel van innovatie en constante optimalisering van onze dienstverlening streven we naar de hoogste kwaliteit van dienstverlening om onze klanten te helpen. Naast onze vestigingen in Nederland hebben we wereldwijd vestigingen in Afrika, Azië, Zuid- en Noord-Amerika, Midden Oosten en Europa. Wereldwijd hebben we 5500 medewerkers.
Allround medewerker Debiteuren – Crediteuren
In deze functie kom je op de afdeling Finance te werken en maak je deel uit van het Debiteuren – Crediteuren team. Samen met jouw collega's draag je zorg voor het efficiënt en gestructureerd verwerken van alle inkomende facturen en betalingen. Het verwerken van onze financiële stromen omtrent crediteuren- en debiteurenbeheer is een essentieel onderdeel van onze bedrijfsvoering. Op dit moment hebben wij behoefte aan de bekende 'vliegende keep' die daar waar nodig inspringt en meewerkt.
Om je een indruk te geven hebben wij jouw voornaamste werkzaamheden en taken even op een rijtje gezet.
De belangrijkste werkzaamheden zijn:
Voorbereiden, boeken, controleren, invoeren, verwerken en/of coderen van inkoopfacturen, kasafschriften en bankafschriften;
Betaalopdrachten uitvoeren en het betalingsproces bewaken;
Verwerken van gegevens in bijvoorbeeld grootboekadministratie en kostenplaatsadministratie;
Onderhouden van contacten met leveranciers op het gebied van facturering;
Onderhouden van contact met debiteuren (schriftelijk en telefonisch) over uitstaande betalingen;
Het bijhouden en opschonen en het zogenaamde afletteren van de debiteurenkaarten;
Het versturen van statements naar klanten;
Overige 'licht' administratieve taken.
Wat verwachten we van je?
Goede beheersing van de Nederlandse taal, zowel schriftelijk als mondeling.
Redelijke beheersing van de Engelse taal in schrift;
MBO moderne bedrijfsadministratie, MBO Debiteuren- en Crediteurenbeheer, gelijkwaardige kennis verkregen door opleiding, werkervaring en/of nascholingscursussen is een pré, maar niet noodzakelijk;
Ervaring met administratieve processen is een pré;
Kennis van Microsoft Office applicaties (Word, Excel, Outlook).
Welke persoonlijke eigenschappen zijn een goede 'match' voor deze functie?
Je bent een echte aanpakker en stroopt graag je mouwen op om te werken;
Je houdt van structuur in je werk en werkt efficiënt;
Je hebt een redelijk gevoel voor cijfers en bent kritisch en analytisch ingesteld;
Je vindt het fijn om in teamverband te werken en ervaringen en kennis te delen met jouw collega's.
Als je jezelf herkent in deze eigenschappen dan vragen wij jou snel te reageren op deze leuke en dynamische baan.
Wat kunnen wij jou bieden?
Een marktconform salaris en uitstekende secundaire arbeidsvoorwaarden bij een prachtige onderneming;
Een uitdagende en verantwoordelijke functie in een fijn team waar voor jezelf voldoende mogelijkheden zijn om te groeien in je persoonlijke ontwikkeling;
Standplaats Rotterdam (Waalhaven);
4 dagen of 5 dagen werken? Beide is bespreekbaar. Ook is gedeeltelijk thuiswerken in deze functie mogelijk.
Heb je interesse? Stuur dan je motivatiebrief en CV naar recruitment@nl.steinweg.com of neem contact op met onze recruiter Manuella Bruijns 06-26967804. We kijken uit naar je komst!