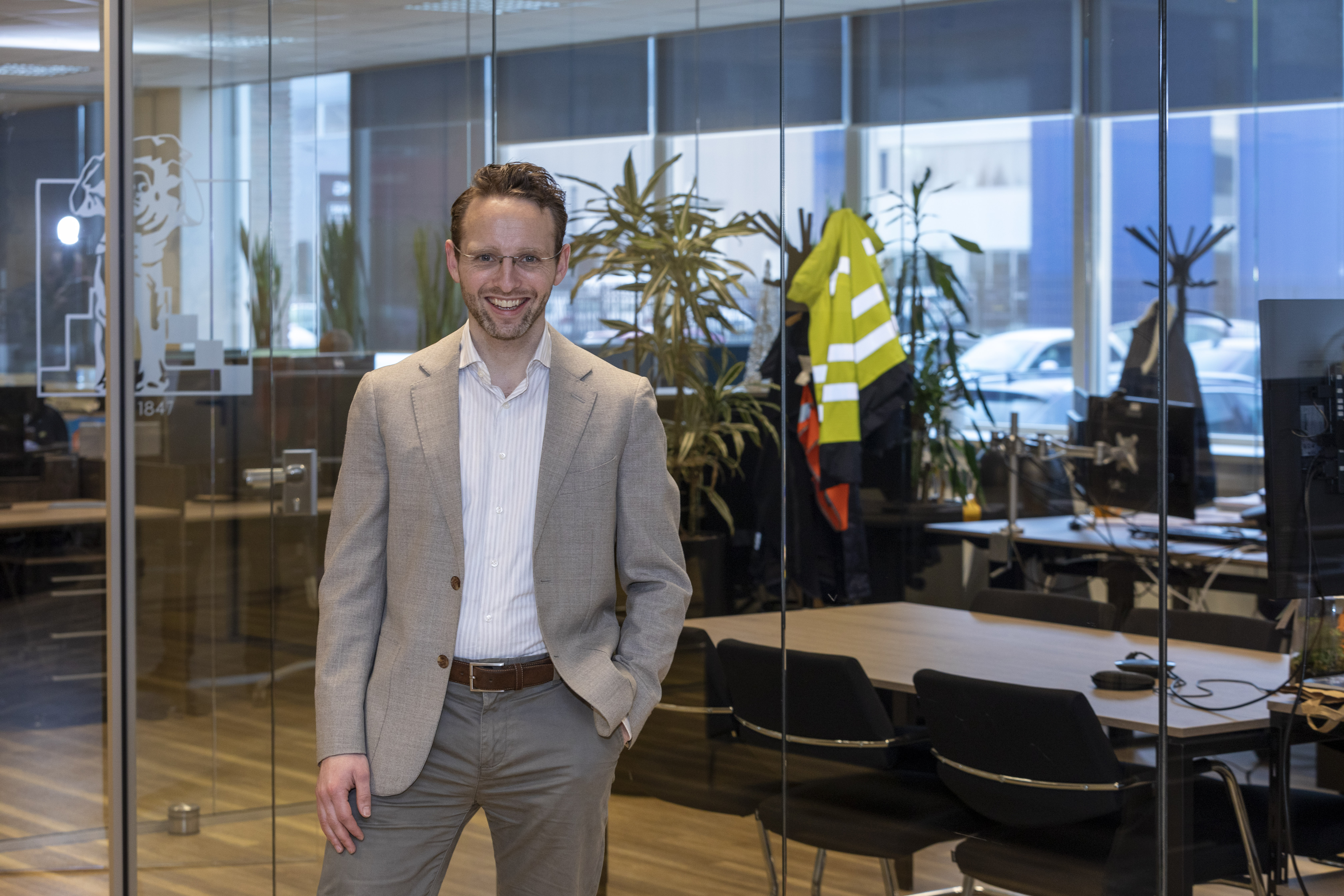 Voor onze IT afdeling zijn wij op zoek naar een:
Functioneel Beheerder – Finance
'Hoi! Ik ben Jeroen Capelle, Manager Functioneel Beheer bij C. Steinweg Handelsveem. In ons bedrijf werken we projectmatig met multidisciplinaire teams die zijn onderverdeeld in domeinen. In elk team zit onder andere een product owner, tester, functioneel beheerder en ontwikkelaar. Al deze disciplines brengen we samen zodat we de applicaties van Steinweg van A tot Z kunnen ontwikkelen en ondersteunen. Eén van de domeinen is Finance. En dat IT-team breiden we graag uit met een Functioneel Beheerder!'
'Als Functioneel Beheerder Finance heb je samen met je collega's veel financiële applicaties onder beheer. Wereldwijd ondersteun je de gebruikers van deze applicaties. Denk aan het beantwoorden van vragen, maar ook aan het oplossen van incidenten en bugs. Hiervoor schakel je met eindgebruikers en ontwikkelaars van verschillende softwaresystemen. Samen zoek je naar nieuwe mogelijkheden en werk je nieuwe processen uit. Je schrijft daarnaast handleidingen, traint mensen en ondersteunt hen bij het gebruik.'
'Voor het team zoeken we iemand die goed is in het oppakken en aansturen van projecten, en naast de diverse projecten ook weet te schakelen naar het oplossen van incidenten. De alarmbellen kunnen namelijk elk moment afgaan. Wat verder belangrijk is om te weten is dat we midden in een wereldwijde SAP implementatie zitten. We zijn op dit moment onze kernprocessen aan het definiëren en laten deze configureren in SAP. Ervaring op het gebied van Finance en SAP is om die reden een pre.' 'Hou je ervan mensen te ondersteunen en te helpen? En herken jij jezelf in bovenstaand verhaal? Kom dan vooral even bij ons op gesprek. Wie weet ben jij de Functioneel Beheerder die we zoeken!'
Waar je ons bij Steinweg écht mee helpt:
Je levert op een proactieve manier gebruikersondersteuning bij diverse applicaties;
Je signaleert, analyseert en prioriteert incidenten en serviceaanvragen en lost deze op;
Je werkt nauw samen met de Finance Product Owner vanuit de Business;
Samen met deze Product Owner optimaliseer je bedrijfsprocessen en gebruikers-behoeften en vertaalt deze naar systeemwijzigingen of uitbreidingen van functionaliteit;
Je organiseert gebruikersacceptatietesten;
Je schrijft handleidingen, geeft trainingen en instrueert eindgebruikers;
Je communiceert intensief met eindgebruikers, leveranciers, teamleden en andere stakeholders.
Wat we hopen dat je meebrengt:
Minimaal HBOwerk- en denkniveau, met daarin ten minste een financiële als ook een IT-component.
Je vindt het leuk om van de financiële informatiestromen en de daaraan gekoppelde informatievoorziening binnen een organisatie te doorgronden;
Je hebt interesse in logistiek en je vindt het daarbij leuk om te opereren op het snijvlak van IT en Finance;
Je bent communicatief sterk, zowel in het Nederlands als in het Engels;
Je bent in staat analyses te maken en deze pragmatisch te vertalen naar verbeteringen;
Je hebt een aantoonbare proactieve en oplossingsgerichte houding;
Je bent leer- en nieuwsgierig (bijvoorbeeld om nieuwe applicaties te leren kennen en om de processen die ondersteund worden door deze applicaties te doorgronden);
Je vindt het leuk om collega's kennis over applicaties bij te brengen;
Je bent systematisch en ordelijk bij het oplossen van problemen en het verwerken en analyseren van gegevens;
Je bent bereid die extra stap te zetten indien het werk daarom vraagt;
Je bent in het bezit van een rijbewijs B.
Wat Steinweg jou graag biedt:
Een uitdagende baan bij een van de grootste logistieke dienstverleners in de wereld;
Veel ruimte voor persoonlijke ontwikkeling;
Werken op projectmatige basis in multidisciplinaire teams met ontwikkelaars, product owners en eindgebruikers;
Je maakt onderdeel uit van het vernieuwings- innovatieproces binnen Steinweg;
Marktconform salaris en goede secundaire arbeidsvoorwaarden;
Een internationale werkomgeving.
Over Steinweg
Van op- en overslag tot transport en van stuwadoorswerk tot bewerken en verpakken. Bij C. Steinweg Group zijn de goederen van onze klanten in de beste handen. Wat de logistieke vraag ook is, wij zorgen altijd voor een passend antwoord. Professioneel, veilig en vertrouwd. Dat doen we overal in ons wereldwijde netwerk, op meer dan 100 locaties en in ruim 50 landen. We zijn inventief en leveren maatwerk waar nodig. Ons hoogste doel: onze klanten op een duurzame manier de beste service en hoogste kwaliteit bieden. Met wereldwijd ruim 5.500 collega's maken we dit ook elke dag waar. Steinweg is in Nederland actief met ongeveer 1.000 collega's op diverse locaties.
Interesse?
Ben jij de Functioneel Beheerder Finance die ons team versterkt? Stuur je cv en motivatie dan naar recruitment@nl.steinweg.com of neem contact op met ons recruitment team via 06-45823593.