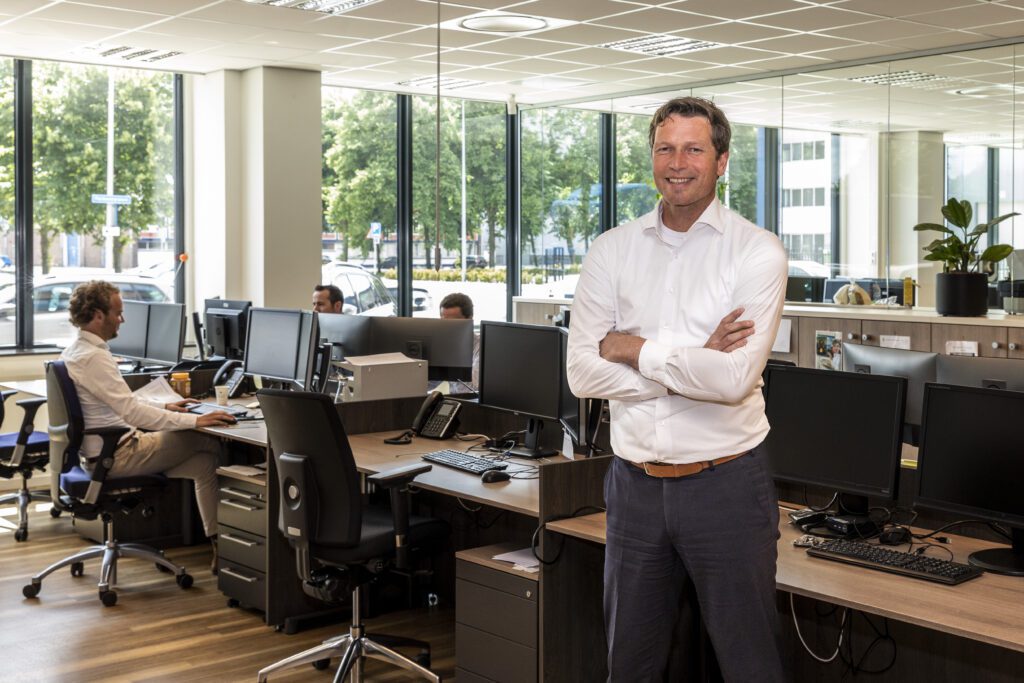 Voor onze Finance afdeling zijn wij op zoek naar een:
Medior Financial Controller (met affiniteit voor belastingen)
'Hey! Ik ben Arvid de Bie, Business Controller bij C. Steinweg – Handelsveem. Voor ons enthousiaste team ben ik op zoek naar versterking. Heb je interesse in fiscale ontwikkelingen, maar ben je (nog) geen ervaren fiscalist? Geen zorgen! Dan ben jij misschien juíst degene die we zoeken. We zijn namelijk op zoek naar iemand met een goed gevoel voor cijfers, een kritische en analytische instelling en de wil om te leren. Beschik jij over die Rotterdamse 'handen uit de mouwen-mentaliteit'? Weet je van aanpakken en ga je altijd voor resultaat? Lees dan vooral verder!'

Fiscale transparantie verdient wereldwijd de aandacht. Zeker wanneer het gaat om het belasten van bedrijfswinst. Steinweg focust zich dan ook op de impact die wijzigende fiscale regelgeving heeft op onze winstgevendheid. Ook besteden we aandacht aan de benodigde informatievoorziening. Daarnaast moet Steinweg actief aan de belastingdienst rapporteren over de kwaliteit van interne fiscale processen.
Om ons te helpen met deze activiteiten, zoeken we dus niet naar een ervaren fiscalist, maar wel naar iemand die samen met een ervaren (fiscaal) business controller en onze externe fiscaal adviseur optrekt. Samen met hen ga je aan de slag met de nationale en mondiale fiscale uitdagingen.

Wij zien deze werkzaamheden niet als een volledige dagtaak (schatting 50%). Je zal dus ook op flexibele basis ons business-controlteam ondersteunen. Je wordt als financieel sparringpartner gekoppeld aan de manager van een specifieke afdeling.

Je houdt van structuur, werkt efficiënt en bent flexibel. Je hebt een groot verantwoordelijkheidsgevoel en vindt het belangrijk om secuur en op tijd te werken. Daarnaast vind je het fijn om in teamverband te werken en ervaringen en kennis met jouw collega's te delen.

Herken jij jezelf in bovenstaand verhaal en ben je enthousiast geworden? Aarzel niet en bel of mail ons meteen. Wie weet ben jij de collega die we zoeken!
Doorgroeimogelijkheden
Steinweg is een groot bedrijf met diverse en uitdagende functies, zowel binnen als buiten Finance. Veel teams hebben een teamlead en die teams zijn onderdeel van een afdeling. Lijkt het jou na een bepaalde periode bijvoorbeeld leuk om door te groeien naar teamlead van een bepaald team, andersoortige controller, of misschien juist de sales kant op? Alles is bespreekbaar! Steinweg helpt jou graag bij jouw persoonlijke ontwikkeling om zo een carrière te vormen die bij jou past!
Waar je ons nu écht bij helpt:
Fiscaliteit:
Aanspreekpunt voor de belastingdienst, de interne Nederlandse organisatie (boekhouding/personeelszaken/expediteurs) en externe (belasting)adviseurs voor alle belastingmiddelen;
Aangiften vennootschapsbelasting: info verzameling voor verstrekking aan de externe fiscaal adviseur en controle (en dus begrijpen) van de ingevulde aangifte en specificaties;
Accounting van verschillen tussen IFRS en fiscale grondslagen, inclusief het bijhouden (en automatiseren) van fiscale subadministraties IVA/MVA van de fiscale eenheid NL;
BEPS: opstellen/invullen jaarlijkse master en local files en Country-by-country rapportages van de groep (inclusief transfer pricing documentatie);
Opzetten tax planning NL fiscale eenheid (i.v.m. verliesverrekening en herinvesteringsreserves);
Beoordelen en/of uitvoeren van diverse controlemaatregelen zoals beschreven in de interne fiscale processen voor loonheffing en omzetbelasting;
Opzetten van systeem voor fiscale managementinformatie t.b.v. nieuwe Pillar 2 regelgeving;
(Business) Control voor ondersteunende afdelingen:
Hulp bij het opstellen van afdelingsbudgetten en budgetbewaking;
Verschaffen van (periodieke) managementinformatie voor besluitvorming;
Bijstaan projectorganisaties in het realiseren van (financiële) doelstellingen;
Cost accounting inclusief controle van inkomende facturen op basis van contracten en operationele informatie en het doorbelasten van kosten aan interne afdelingen en externe groepsmaatschappijen;
Het verwerken en controleren van intercompany verhoudingen met andere dochtermaatschappijen;
Overige taken (bij Steinweg houden we van een pro-actieve houding en zullen er altijd mogelijkheden voorkomen om op ad hoc basis andere werkzaamheden te doen).
Wat we hopen dat je meebrengt:
Rekenvaardigheid, analytisch denkvermogen en gestructureerde werkwijze;
Sterke communicatievaardigheden;
Hoog verantwoordelijkheidsgevoel;
Vertrouwelijke omgang met bedrijfsgevoelige informatie;
Overtuigingskracht richting leveranciers en collega's wanneer nodig;
Goede beheersing van de Nederlandse taal, zowel schriftelijk als mondeling;
Redelijke beheersing van de Engelse taal in schrift;
Gelijkwaardige kennis van deze werkprocessen verkregen door opleiding, werkervaring en/of nascholingscursussen zijn een pré, maar geen vereiste;
Kennis van Microsoft Office applicaties (Word, Excel, Outlook).
Wat Steinweg jou graag biedt:
Marktconform salaris en uitstekende secundaire arbeidsvoorwaarden bij een prachtige onderneming;
Uitdagende en verantwoordelijke functie binnen een fijn team;
Ruimte voor persoonlijke ontwikkeling;
Standplaats Rotterdam (Waalhaven);
Fulltime functie.
Over Steinweg
Van op- en overslag tot transport en van stuwadoorswerk tot bewerken en verpakken. Bij C. Steinweg Group zijn de goederen van onze klanten in de beste handen. Wat de logistieke vraag ook is, wij zorgen altijd voor een passend antwoord. Professioneel, veilig en vertrouwd. Dat doen we overal in ons wereldwijde netwerk, op meer dan 100 locaties en in ruim 50 landen. We zijn inventief en leveren maatwerk waar nodig. Ons hoogste doel: onze klanten op een duurzame manier de beste service en hoogste kwaliteit bieden. Met wereldwijd ruim 5.500 collega's maken we dit ook elke dag waar. Steinweg is in Nederland actief met ongeveer 1.000 collega's op diverse locaties.
Interesse?
Ben jij de collega die ons team versterkt? Stuur je cv en motivatie dan naar recruitment@nl.steinweg.com of neem contact op met Peter van Geest via 0624492544.