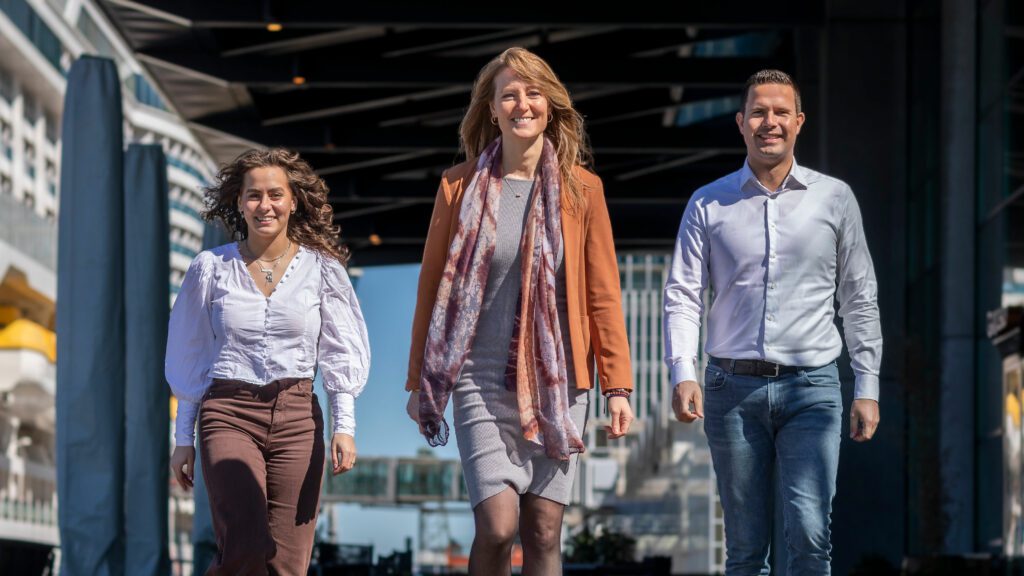 Hoi! Wij zijn Stefanie, Sabine en Michel en samen vormen wij Team Communicatie van Steinweg. Een leuke en hechte afdeling met een heel gevarieerd takenpakket in het werkveld van de Rotterdamse haven en logistiek. Dit doen we voor Steinweg in Nederland, maar we zijn ook actief voor onze buitenlandse vestigingen. Aangezien onze afdeling volop aan het ontwikkelen is, zoeken we een stagiair(e). Ben jij een enthousiaste en leergierige communicatiestagiair(e) die de kneepjes van het vak graag wil leren? En volg jij een HBO-opleiding richting marketing of communicatie? Wil je een meeloop- of liever een afstudeerstage doen? Beide zijn mogelijk, dus lees vooral verder!
We zoeken iemand die veel affiniteit heeft met social media. Samen met Stefanie ben jij straks hoofd content(kalender). De hashtags moeten uit je vingers rollen terwijl je typt en jij denkt 24/7 aan content(creatie). Het is daarom ook belangrijk dat je lekker kan schrijven. Samen met ons ben je ook verantwoordelijk voor alle websiteteksten, brochures, nieuwsbrieven, de personeelskrant en ga zo maar door. Dat alles natuurlijk in de juiste spelling en grammatica (zowel Nederlands als Engels). Maar dan ben je er nog niet. Je wordt ook ingezet voor het schrijven van briefings voor de vormgever (intern en extern). Je werkt met Canva en Mailchimp voor het maken van nieuwsbrieven en content voor de narrowcasting schermen. Tot slot hebben we regelmatig afspraken buiten de deur en op kantoor met collega's, communicatiebureaus of andere partners.
Een uitdagende stage in de Rotterdamse haven staat voor jou klaar waarbij er ook ruimte is voor eigen input. Uiteraard krijg je van ons de juiste begeleiding en er wordt zeker niet verwacht dat je alles al kan. Daarnaast is er alle ruimte voor je opdrachten vanuit je studie. Wel is het belangrijk dat je zelfstandig bent, beschikt over de Rotterdamse mentaliteit van aanpakken en dat je creatief bent.
Als jij nog steeds enthousiast bent als je bij deze alinea bent aangekomen… dan ben jij misschien onze nieuwe stagiair(e) en gaan we er samen een hele leuke en leerzame tijd van maken.
Wij bieden je:
Een dynamisch Rotterdams podium;
Een ruime stagevergoeding van € 600 per maand;
Een fijne werksfeer met leuke collega's met wie je gezellig kan lunchen in de kantine of tijdens de pauze een potje tafeltennis speelt in onze ontspanningsruimte.
De gelegenheid om te leren en ervaring op te doen.
Ben jij de ideale kandidaat? Stuur dan jouw motivatie en CV naar recruitment@nl.steinweg.com. Voor vragen kan je altijd contact opnemen met Michel van Jaarsveld via 06 – 82 09 08 40.