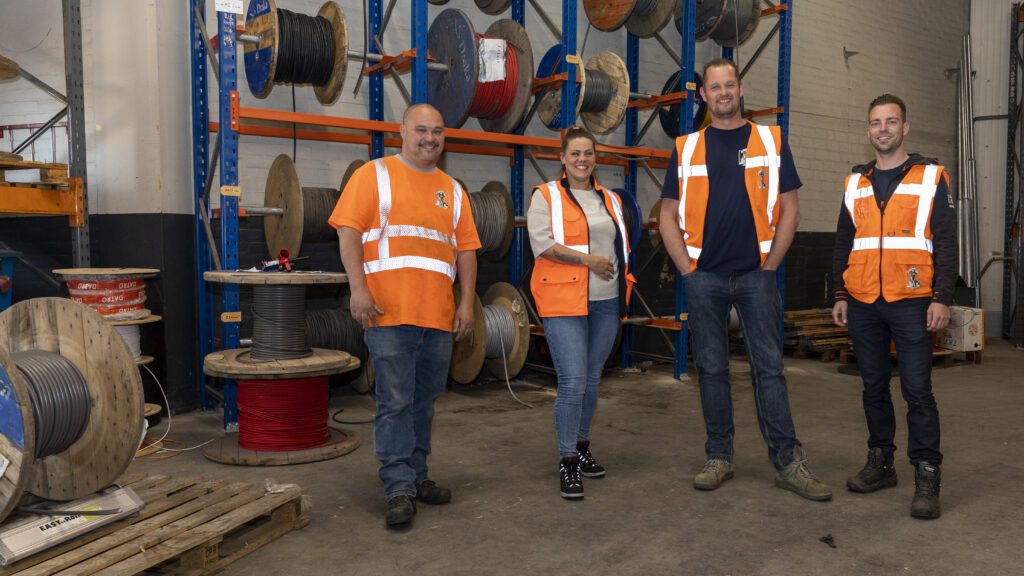 Als werkvoorbereider binnen het team Technische Dienst kom je te werken in een dynamische omgeving. Als kloppend hart van één van de grootste én oudste bedrijven in de Rotterdamse haven, is de Technische Dienst bijna een "bedrijf in een bedrijf".
Alle denkbare soorten techniek worden in eigen beheer op de diverse locaties in het havengebied uitgevoerd. Denk hierbij aan onderhoud en beheer van gebouwen, gebouw gebonden installaties, mobiele en vaste kranen en al het rijdende materieel (groot en klein). Duurzaamheid is ook van belang binnen ons bedrijf en dus zijn we volop bezig met het verduurzamen van ons bedrijf, zowel gebouwen als materiaal/ materieel wordt de komende tijd aangepast naar de normen van de toekomst.
Je dagelijkse werkzaamheden bestaan uit het plannen en voorbereiden van onderhoud, het toezien op de correcte uitvoering van de werkzaamheden door collega's of derden, het correct administreren van rapportages en daarnaast werk je aan innovatie binnen je eigen werkprocessen.
Tijdens storingen of calamiteiten ben jij flexibel én toch vasthoudend; je past lopende planningen aan of mobiliseert extra bezetting om de voortgang van het uit te voeren te waarborgen.
Tijdens de afwezigheid van jouw manager neem jij de rol op je om werkzaamheden te verdelen en beantwoord de meest urgente vragen van medewerkers.
Binnen onze afdelingen binnen de Technische Dienst is Nederlands de voertaal, maar voor de afdeling Kranen is tevens ook goede kennis van de Engelse taal vereist. Ervaring met een ERP-systeem een (b.v.k. Ultimo) helpt bij het snel succesvol zijn in deze functie.
Wat we hopen dat je meebrengt:
Afgeronde HBO-opleiding in de richting: Supply Chain Management, Bedrijfskunde, Technische Bedrijfskunde of Operations Management;
Kennis van Ultimo of een soortgelijke applicatie;
Kennis van Microsoft Office-applicaties (Word, Excel, Outlook);
Nederlands en Engels in woord en schrift;
Sterke communicatieve vaardigheden in woord en schrift, naar zowel monteurs, interne klanten, leveranciers en management;
De volgende eigenschappen: stressbestendig, prioriteiten kunnen stellen, in teamverband kunnen werken, onderhandelingsvaardig, resultaatgericht, accuraat en inventief.
Enkele jaren ervaring in een soortgelijke functie.
Wat Steinweg jou graag biedt:
Een uitdagende en veelzijdige functie in een dynamische organisatie;
De verantwoordelijkheid over een leuk team, met veel bevoegdheden;
Persoonlijke ontwikkeling;
Marktconform salaris en goede secundaire arbeidsvoorwaarden;
Een internationale werkomgeving;
Fulltime functie;
Standplaats Rotterdam.
Over Steinweg
Van op- en overslag tot transport en van stuwadoorswerk tot bewerken en verpakken. Bij C. Steinweg Group zijn de goederen van onze klanten in de beste handen. Wat de logistieke vraag ook is, wij zorgen altijd voor een passend antwoord. Professioneel, veilig en vertrouwd. Dat doen we overal in ons wereldwijde netwerk, op meer dan 100 locaties en in ruim 50 landen. We zijn inventief en leveren maatwerk waar nodig. Ons hoogste doel: onze klanten op een duurzame manier de beste service en hoogste kwaliteit bieden. Met wereldwijd ruim 5.500 collega's maken we dit ook elke dag waar. Steinweg is in Nederland actief met ongeveer 1.000 collega's op diverse locaties.
'Ben jij de Werkvoorbereider Technische Dienst die ons team versterkt? Stuur je cv en motivatie dan naar recruitment@nl.steinweg.com of neem contact op met Manuella Bruijns via 06 26967804.