Sustainability has been ingrained in Steinweg's ethos for over 175 years. It has always been a driving force for our company. However, due to new and stricter laws and regulations, Steinweg's sustainable practices are becoming increasingly prominent. Complying with stringent criteria and conditions isn't seen as an obstacle by Steinweg, rather, it is viewed as an opportunity to showcase and enhance their sustainable practices. Ultimately, at Steinweg, our commitment to sustainability is driven by a desire to benefit both people and the environment, not merely for the purpose of a marketing label.
For the Steinweg Group, sustainability is an integral component of the group corporate strategy. Mohammed Hussein is responsible for the sustainability theme within the group. He explains that Steinweg is taking significant steps to promote sustainability, both within the organization and in the broader communities where Steinweg operates. He emphasizes a holistic approach whereby Steinweg aims to create a sustainable ecosystem that focuses on not only environmental aspects but also social and governance elements. Steinweg are undergoing a fundamental shift by way of transitioning from an inward-looking approach to considering the impact of their activities on the environment in which they operate.
Text continues after image.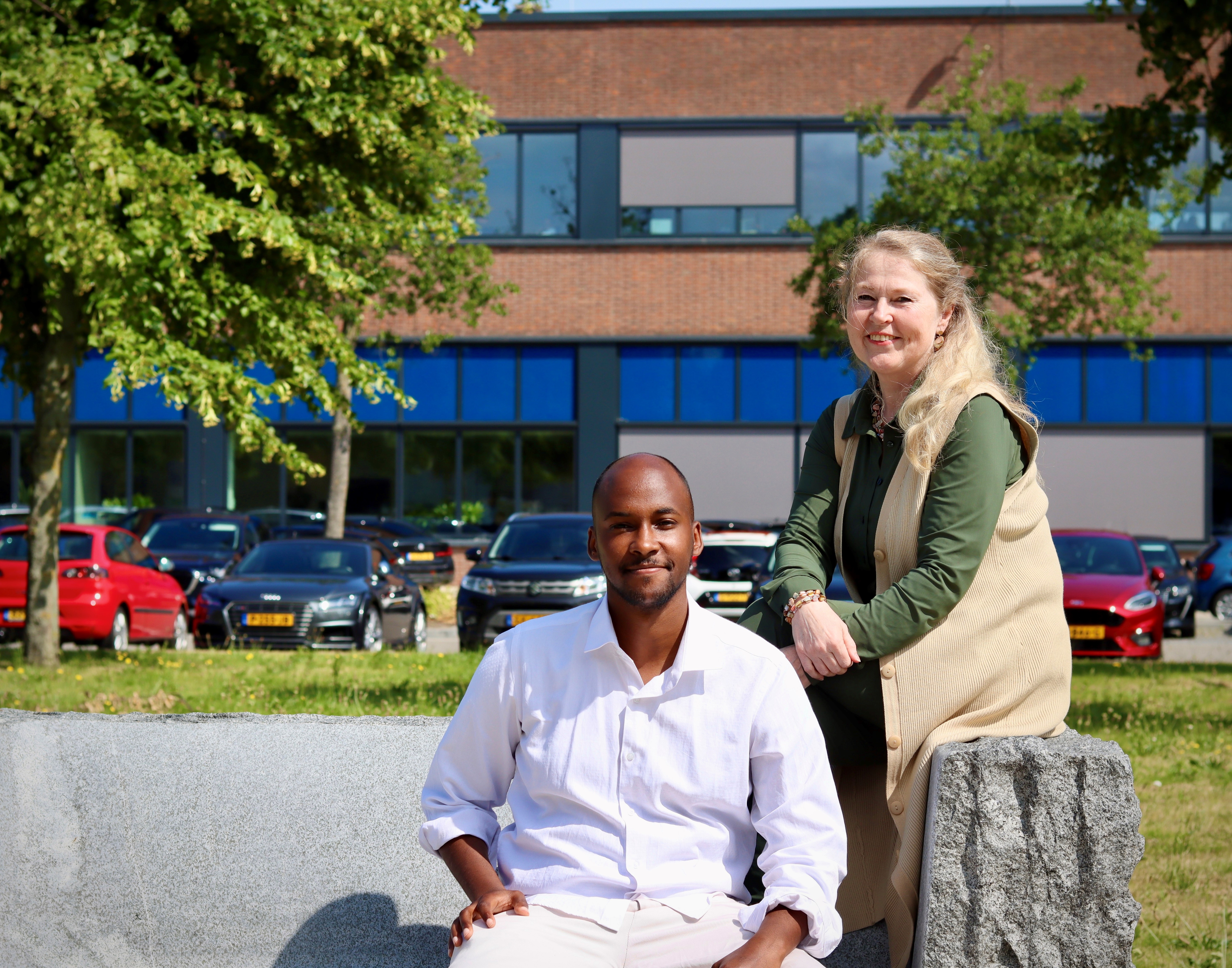 Cross-cutting working group
In the past, companies reported only minimally on sustainability. This is no longer the case as due to stricter regulations and growing awareness of sustainability issues, it has become essential for companies to take their sustainability efforts seriously and integrate them into their business operations. "At Steinweg, we've embraced this shift wholeheartedly. We are determined to become leaders in the field of sustainability", explains Esmeralda, Senior Business Controller at Steinweg with responsibility for sustainability matters in the Netherlands. Alongside Mohammed, Esmeralda is working diligently to implement new European legislation that is in the pipeline. "We are doing this with a larger international working group, which includes a colleague from each Steinweg region."
This working group aims to collectively shape the sustainability goals of the Steinweg Group. Mohammed elaborates, "The foundation for this is the tightened European legislation, but we also consider local demands in each country. Furthermore, each region has its unique focus areas that require attention. Steinweg's sustainability goals are based on three pillars: environmental, social, and governance. In one country, the emphasis might be on diversity or human rights, while in another, it might be on reducing CO2 emissions or addressing water scarcity."
Changing regulatory landscape
The catalyst for this working group is the impending, stricter European legislation. To assess our current sustainability standing, the group recently conducted a survey within the global organization. This survey involved employees and aimed to gauge the extent of sustainability within Steinweg. The results are now being collected and analyzed, serving as the starting point for strengthening sustainability efforts.
Even though the new European standard is still in development, Steinweg is proactive in taking measures for future compliance. "We continue to make strides in sustainability because it's not just a legal obligation but something we genuinely desire. It's a part of Steinweg's DNA. While we've already embarked on several sustainability initiatives, including involving the community in the construction of a new terminal, or in the Netherlands, generating renewable heat with biomass, we haven't always been as meticulous in documenting these sustainable initiatives. That's changing now", says Esmeralda.
Mohammed and Esmeralda welcome the new, stricter regulations for companies, as they significantly reduce instances of 'greenwashing', where companies portray themselves as more sustainable than they actually are. Mohammed explains why, "Greenwashing occurs when companies present themselves as environmentally friendly as a marketing ploy, without living up to these claims in practice. There are many such companies. The new legislation will impose stricter scrutiny on them. The tightening of climate goals and the energy crisis have brought about significant changes." Steinweg has traditionally been discreet about publicising its sustainability activities. However, the time has come to showcase the true extent of Steinweg's commitment to sustainability.
Text continues after image.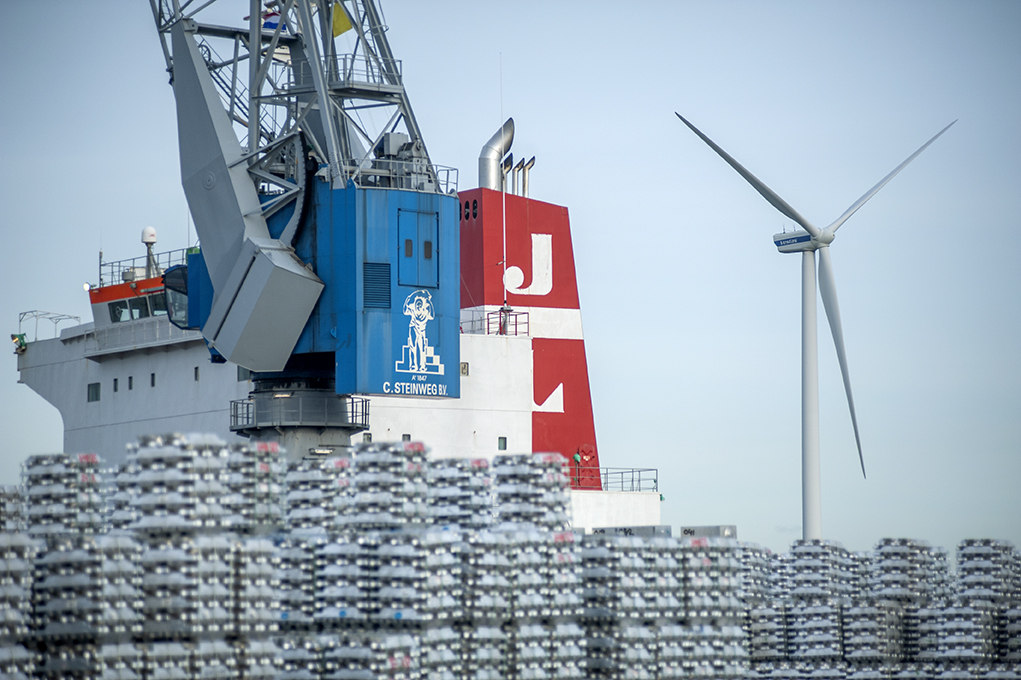 "We go beyond our direct emissions and consider the entire value chain"
"Our assessment goes beyond our direct emissions; we consider the entire value chain." Making the organization more sustainable extends beyond Steinweg's own activities. "We are often part of a larger logistics process. Therefore, we also examine the entire supply chain, including what happens before and after our involvement in the process. We intend to report on this", Esmeralda explains. An example of this is the involvement of a pilot in the Netherlands to offer shore power.
Steinweg acknowledges the importance of external stakeholders, such as customers, suppliers, and financial institutions, in shaping sustainability goals. Mohammed notes, "Engaging in discussions with them helps us better understand their expectations and needs. This, in turn, enables us to be more responsive to sustainability issues. Involving external stakeholders is crucial for creating broad support for sustainability initiatives and driving positive change. We don't just focus on the company's direct emissions; we consider the entire value chain, including indirect emissions. We have expanded our sustainability efforts into areas like renewable energy, energy efficiency, and social responsibility. Sustainability is a journey that thrives on unity. Only together can we create a profound impact on both the environment and society, inspiring positive change."
An ongoing process
Implementing, reporting, and improving sustainability is seen as an ongoing process. Transparency and reporting are essential components of a successful sustainability policy. Steinweg's reporting extends beyond their own activities to include the impact of their operations on the communities in which they operate and global sustainability goals.
While Steinweg has already taken many sustainable initiatives, there are still challenges to overcome, especially in terms of uniform reporting and sustainable partnerships. "At present, we are working hard to raise awareness of sustainability within the company. Our goals are ambitious. We are continuously working to reduce our environmental impact, enhance social opportunities, and wholeheartedly strive for a sustainable world", concludes Mohammed.
Published on: 24 October 2023