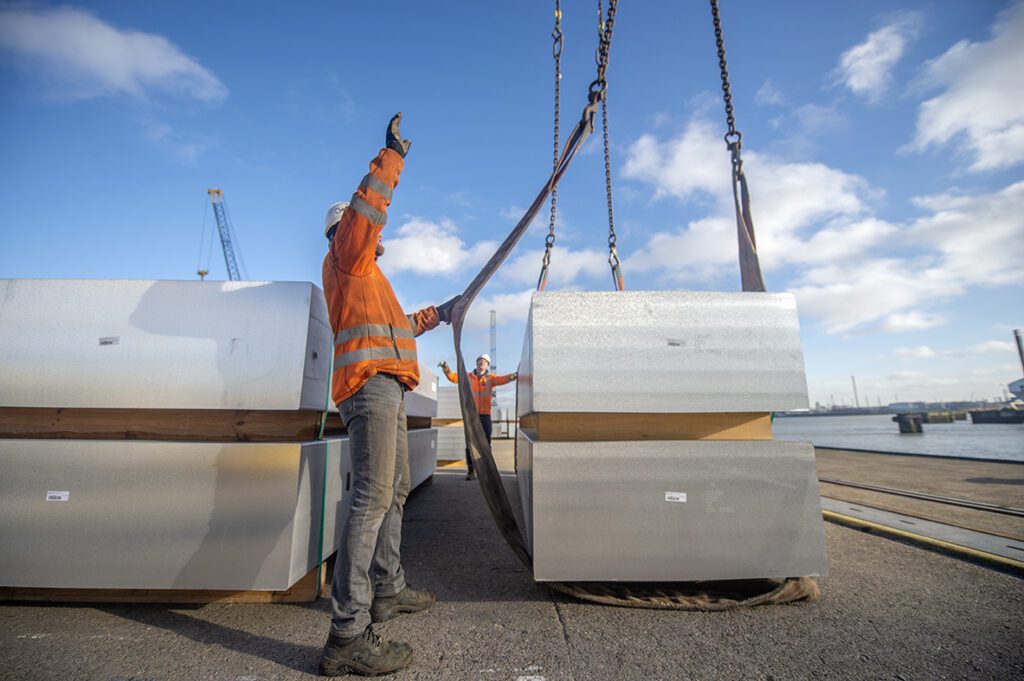 For our warehouse in Baltimore (USA) we are looking for a:
Checker
Level: Hourly
Exempt: Yes
Shift: 8am – 5pm + overtime as needed
Department: Warehouse
Reports to: Warehouse Supervisor
Essential Duties and Responsibilities:
Needs to have read and understood Steinweg's Shipping/Receiving & Handling procedures and to thoroughly follow them.
Needs to have read and understood Steinweg's Safety manual.
Needs to have read and understood Steinweg's Hazard Communication program.
Working environment:
You will be required to work outside; working in different weather conditions. Example: rain, snow, cold, or hot temperatures. The only exception is lightning; then we are on standby until it passes over. Loading and unloading of trucks, containers and railcars, driving forklifts, stacking and recouping material. To load, unload and repack material at times manually with hand.
A checker should have a thorough knowledge of the shipping and receiving office work and should be able to fill in or help the S/R clerk whenever the warehouse supervisor deems necessary.
Steinweg runs different warehouses in the Baltimore area and this position is required to attend whichever one of these warehouses scheduled to work at according to the daily work schedule.
It is your responsibility to inquire about the daily work schedule to ensure your attendance at the right Steinweg facility.
To understand and complete paperwork, tally cargo on inbound and outbound and while in storage.
While checking paperwork, Checker should verify that the paperwork does not have any errors and it is in compliance with the b/l and the corresponding truck before checking the cargo related to this paperwork and any additional instructions related to it.
Quarterly and intermediate stock inventories.
Cleaning, recouping, and stacking freight in designated area using sound judgment.
Fueling PITs and performing daily maintenance reports.
You will be required to work outside to count cargo including lumber in bundle, palletized and loose forms, non-ferrous metals in big bag, ingot, cathode, t-bar, billet, sow, plate, sheet both bundled and loose forms, loose, bundled, palletized, crated general cargo, steel in coil, rod, billet, plate, slab and structural forms, bagged ferro alloy commodities, bagged floor loaded and palletized soft commodities.
You are required to wear safety gear at all times while on the job. We will provide hardhats, safety vests, gloves, and goggles as required. You are expected to report to work properly dressed in uniforms, work boots, rain gear, and/or winter gear We provide lockers with combination locks to keep your gear and uniforms here, so all clothing and gear must be kept in lockers.
The regular work hours are 8am – 5pm. You may be required to work on the pier when the warehouse is not busy. When a vessel is in; everyone is required to work overtime, when applicable, which may include working Saturday and Sunday. If you work in shipping, all trucks must be loaded before you leave.
You will be assigned your own forklift whenever you are required by your supervisor to operate one. You will be required to inspect and fill out daily maintenance reports. It is your responsibility to note any and all damages and report them to the supervisor. As well as fuel your forklift when needed. During the unloading of a vessel your forklift may be required to facilitate in the discharging; then you will be assigned another forklift until the discharging is done.
Whether you are assigned to outbound shipping or ship discharge; you must be able to: Run freight to designated area; using sound judgment; be able to stack it according to supervisor's requirements. Recoup any broken bundles and band them using tools and proper safety gear. Load or unload trucks, containers, or railcars with a proper size forklift in a reasonable time period. Take a work order and correctly pull and stage/load freight, and then signoff on work order when completed. Noting that everything on the work order is completed. If required by work order, you must be able to tally loads prior to shipping; recording heat nos. and weight. Keep working area clean by picking up all trash, banding, and debris.
Advanced MSDS Training
Understanding building, door, and loading dock locations
Understanding sealing and securing requirements of various packaging and cargo
Cross training, mentoring, and OJT Procedures, customer service
Securing truck jack and fifth wheel pin lock
Damage and loss control
Housekeeping and securing of facilities
Skills Required:
Must have good reading, writing, and mathematical skills to be able to record information from material received onto tally sheet or loading manifest. As well as load trucks from a work order generated from the office. And be able to identify material unloaded from the vessel with the help of the discharge report.
Must be able to operate 6,000-10,000 lb. Linde forklifts. With several years experience in material handling; knowing the capacity as well as the limitations of the forklift you are driving.
Completely familiar with all Steinweg's procedure manuals.
Must have the ability to recoup bundles of ingots weighting up to 90 lbs. each and to use the banding tools to band them together.
Must be able to handle ships gear for loading/unloading of the vessel. Such as pans, chains, nylon straps, copper & t-bar clamps, chockers, & other cables.
Must have flexibility with job assignments, because of the nature of the business you may find yourself doing different assignments from day to day.
Performance Measures Include:
Safety
Attendance
Productivity
Work Habits
Pre-employment Requirements: All jobs offers are contingent upon the applicant passing a pre-employment physical examination, drug screen and criminal background check.
Operating Approach:
Consistent with the C. Steinweg (USA)'s vision, mission and values as a seamless company with uniform core values, this position will be evaluated on certain non-quantitative measures. These core values include:
Customer driven focus
Personal ownership and accountability
Calculated risk taking
Energetic approach
Eager to change
Look for innovation
Strive for continuous improvement
Communication
Respect
Integrity
Excellence
Commitment
Teamwork