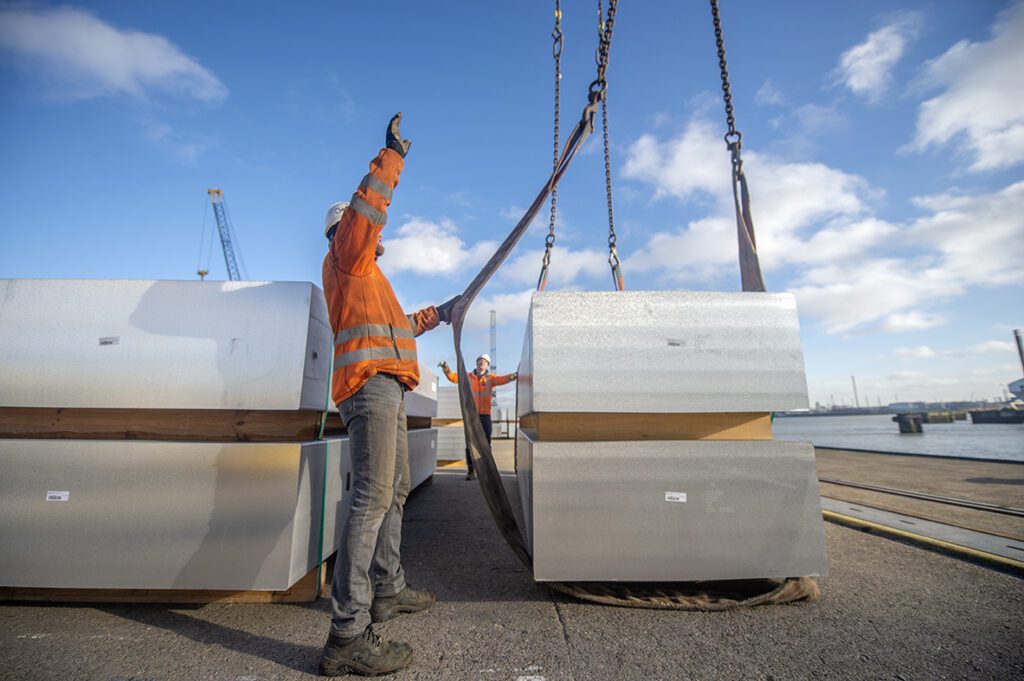 Voor onze buitenlocaties zijn wij op zoek naar een:
Havenwerker
'Hey! Ik ben Rick, Operationeel manager bij C. Steinweg Handelsveem. De Rotterdamse haven is ons werkterrein. Omdat ons bedrijf groeit, zoek ik naar nieuwe collega's. Wat je mee moet brengen? Vooral veel inzet en gedrevenheid. We zoeken mensen die weten wat er nodig is om in de haven te werken. Je staat stevig in je schoenen en weet van aanpakken. Geen dag is hier hetzelfde, maar dat maakt ons werk juist zo leuk. Schepen, containers, vrachtwagens en wagons… We lossen en laden van alles. En dat doen we samen.'
'Ik zoek iemand die weinig nodig heeft om aan de gang te gaan. Je leest het werk en weet precies waar je het hardst nodig bent. Zelfstandigheid en collegialiteit gaan bij jou hand in hand. Net als discipline en een goed gevoel voor humor. Je bent niet vies van hard werken, zolang dat maar met plezier gebeurt. En dat is jou wel toevertrouwd. We kunnen met jouw lezen, schrijven én lachen! Zie ik je binnenkort?'
Herken jij jezelf in deze omschrijving? En sta je te popelen om aan de slag te gaan in de haven? Kom dan eens praten bij C. Steinweg – Handelsveem. We zoeken namelijk een gedreven Havenwerker. Voldoe je (nog) niet aan alle wensen? Neem dan toch even contact met ons op. Motivatie en de bereidheid om te leren vinden wij namelijk minstens zo belangrijk als ervaring.
Waar je ons bij Steinweg écht mee helpt:
Laden en lossen van schepen, vrachtauto's, containers en wagons;
Bedienen van handgereedschappen;
Omgaan met hijsmaterialen;
Vastzetten en/of losmaken van lading;
Overige terminalwerkzaamheden.
Wat we hopen dat je meebrengt:
Ervaring met het laden en lossen van schepen, vrachtauto's, containers en wagons;
Afgeronde MBO-opleiding of vergelijkbare werkervaring in de haven;
Flexibiliteit en bereidheid om in wisselende diensten te werken;
Eigen vervoer;
Beheersing van de Nederlandse taal in woord en geschrift;
Ervaring met fysiek werk.
Wat Steinweg jou graag biedt:
Marktconform salaris en uitstekende secundaire arbeidsvoorwaarden;
Een fulltime baan;
Een uitdagende en afwisselende functie in een stabiele organisatie;
Een plaats binnen een leuk en vakkundig team collega's;
De mogelijkheid om je op te leiden en in de toekomst verder te ontwikkelen;
Over Steinweg
Van op- en overslag tot transport en van stuwadoorswerk tot bewerken en verpakken. Bij C. Steinweg Group zijn de goederen van onze klanten in de beste handen. Wat de logistieke vraag ook is, wij zorgen altijd voor een passend antwoord. Professioneel, veilig en vertrouwd. Dat doen we overal in ons wereldwijde netwerk, op meer dan 100 locaties en in ruim 50 landen. We zijn inventief en leveren maatwerk waar nodig. Ons hoogste doel: onze klanten op een duurzame manier de beste service en hoogste kwaliteit bieden. Met wereldwijd ruim 5.500 collega's maken we dit ook elke dag waar. Steinweg is in Nederland actief met ongeveer 1.000 collega's op diverse locaties.
Interesse?
Stuur dan je motivatiebrief en CV naar recruitment@nl.steinweg.com of neem contact op met Manuella Bruijns op 06-26967804.