In the dynamic world of metal trading, Steinweg Base Metals stands out as one of the key players, with a history dating back to 1847. This division of the Steinweg Group plays a crucial role in the distribution and storage of base metals, including aluminum, lead, zinc, nickel, copper, and tin. These metals form the backbone of various industries, ranging from the automotive sector to electronics and construction. This article delves into the global landscape of Steinweg's Base Metals division, highlighting its critical operations in the Netherlands, the United States, Asia, Turkey, and Italy. Join us as we delve into the world of base metals, meeting the key players, understanding their perspectives, and exploring how they navigate this ever-changing industry.
Base Metals Netherlands
As part of the Steinweg Group, Steinweg Base Metals Netherlands plays a central role in the company's global operations. The division is responsible for ensuring the quality and integrity of the entire supply chain of base metals. Jan Hein, the Division Manager of Base Metals Netherlands, leads this vital department. With an impressive 34 years of experience at Steinweg, Jan Hein is well-equipped to handle this responsibility. He explains, "Currently, approximately 47 people work in the department and base metals accounts for more than 50% of Steinweg Rotterdam's cargo portfolio. Aluminum is the largest quantity, followed by copper, lead, zinc, and nickel." Jan Hein also highlights Rotterdam's significance as a central hub, comparable to Singapore in the Far East. "Rotterdam is a crucial gateway for distributing raw materials, including base metals, not only within Europe but also globally. We see cargo flows from Malaysia, India, the Middle East, as well as South Africa, West Africa, Canada and South America."
Text continues after image.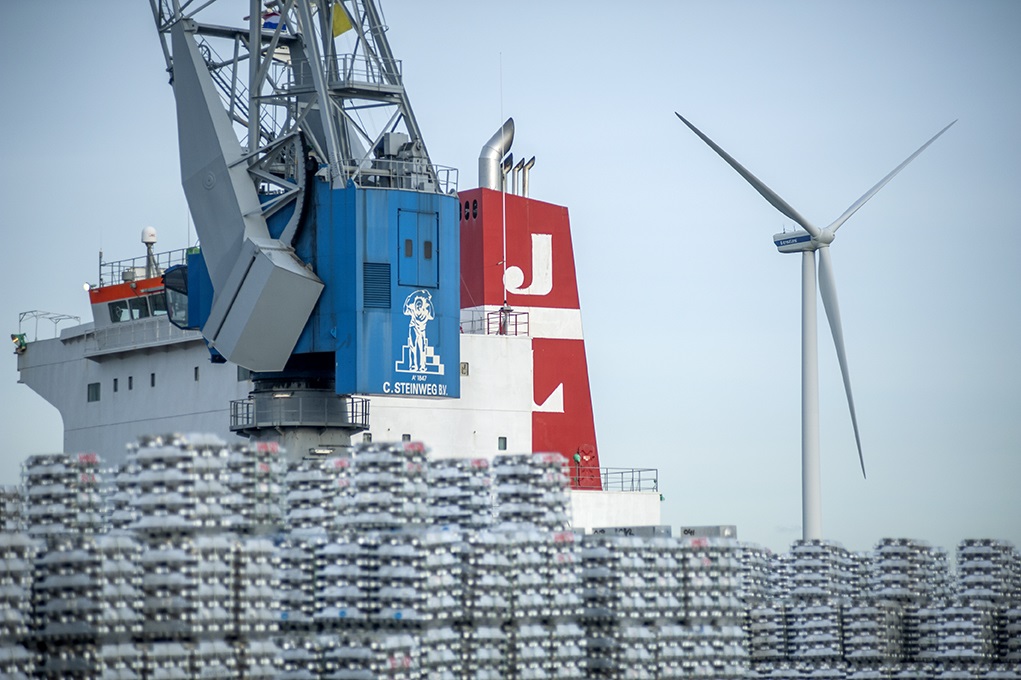 Embracing change and trust
Base Metals has traditionally been Steinweg's largest division. Jan Hein shares his vision for the division and the industry, emphasizing the importance of change. "Steinweg is evolving, which is positive. I am incredibly proud that Steinweg is open to change, aiming to improve communication between different departments and enhance customer service." He underscores the significance of trust in this industry, for both customers and financial institutions. "Trust must exist that what the finance is actually there and remains there. This trust is a significant added value of Base Metals."
In a constantly changing world, Base Metals Netherlands must anticipate developments and growth in the metal industry. Jan Hein points to the shift toward quality and the compliance with regulations as significant changes. "This has led to a greater focus on compliance and safety, as well as a growing need for transparency in the supply chain."
The future of Base Metals Netherlands looks promising, with numerous challenges and opportunities on the horizon. "As the world continues to evolve and the demand for base metals keeps rising, we at Steinweg will focus on continuous improvement and innovation. Quality, compliance, and customer orientation remain our priorities, setting us apart in the competitive world of metal trading."
Base Metals United States
Since 1990, the Base Metals division has been active in the United States, with its headquarters in Baltimore. Over the years, this Steinweg location has experienced significant growth. Tomasz Lembas, who oversees the metal department in Baltimore, explains, "We now manage over 1 million square feet of storage space in Baltimore, with additional presence in Houston and Long Beach through third parties. We offer LME- and CME-approved storage spaces, all within Foreign Trade Zones (FTZs), where we can store goods while deferring import duties prior to customs clearance before goods enter the U.S. Base Metals contribute to over 50% of our total cargo handlings. Company base metals portfolio in Baltimore primary focuses on aluminum, followed by lead and zinc."
Text continues after image.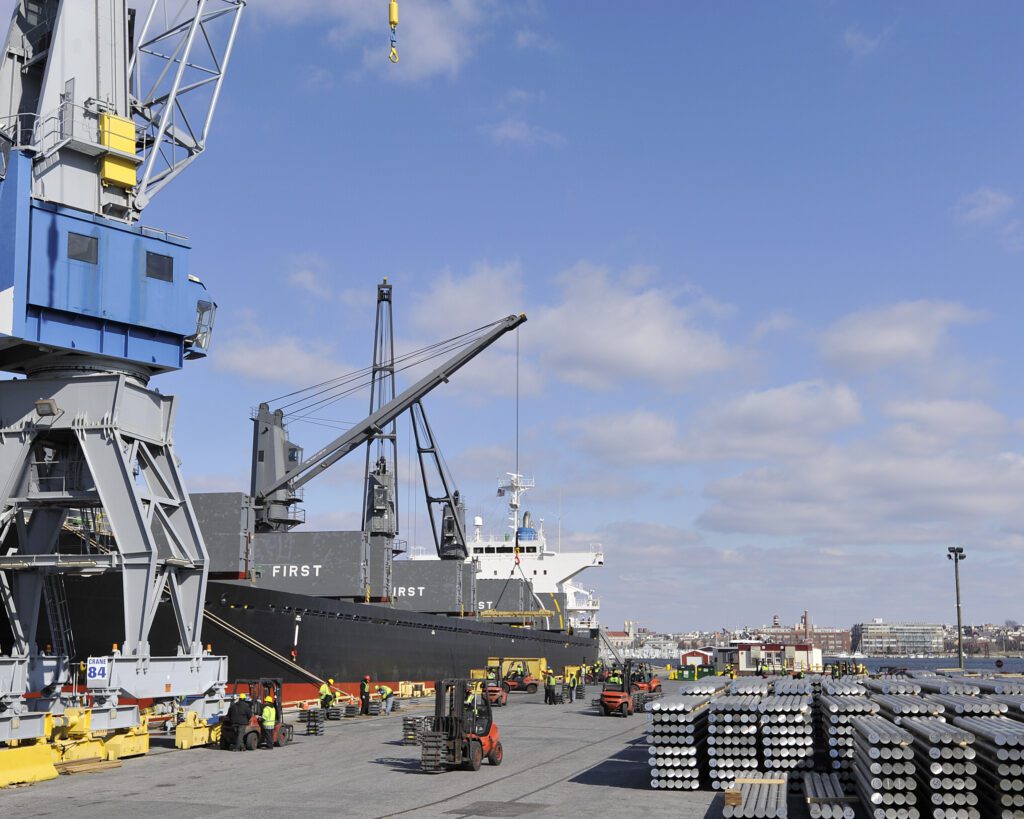 Tomasz attributes the success of Base Metals to Steinweg's end-to-end solutions and efficiency. This applies not only to the U.S. location but also to all other international locations. He states, "Our strength lies in offering a complete logistics chain, covering everything from source to destination. We have in-depth knowledge of our products, which gives us an advantage in the market. We can guide and support our customers in all aspect of the logistic chain from the start, from cargo loading on vessels, containers stowing, unloading, storing and documentation until last mile delivery. By sharing our knowledge, we help our customers to save costs and time, ultimately resulting in financial savings and on time deliveries. Efficiency is our hallmark. We invest heavily in our people to ensure they have the expertise to handle base metals safely and efficiently."
Seamless solutions through strong networks
Tomasz emphasizes the importance of a valuable network, both within the company's own locations and with reliable partners. "We collaborate closely with all Steinweg divisions worldwide. Our global network enables us to provide comprehensive solutions to our customers. We are a one-stop customer-oriented shop where customers can obtain full scope of logistics services from mine to destination."
"The goal is to expand, not only in Baltimore but also in other American locations. Steinweg is moving towards a more global approach, aiming to modernize and provide customers with solutions beyond just products. We help customers navigate complex regulations and make their logistics more efficient."
Base Metals Asia
Another strategically successful region within Steinweg, where metals are stored and distributed, is Asia. The division's coverage extends to various key locations in Asia, including China major locations (Shanghai, Tianjin, Qingdao, Lianyungang, Ningbo, Huangpu), Hong Kong, Taiwan, Vietnam, Thailand, Malaysia, Korea, Singapore, and an expansion into Indonesia due to its vast raw material potential. Base Metals plays a crucial role in Steinweg's activities in Asia, as Rachael Kim, Chief Executive Officer (CEO) of Asia, explains, "Metals constitute a significant portion, ranging from 70% to 80% of our total cargo handling." One of the main challenges faced by Base Metals in Asia is the evolving landscape of metal trading. "The industry is becoming more transparent, with narrower profit margins. Customers now scrutinize service costs more closely. However, maintaining high-quality service remains paramount. This is where we distinguish ourselves."
Cross-division cooperation
Rachael Kim places great importance on collaboration with other global Steinweg locations. She actively facilitates communication between different divisions. "When a new opportunity arises, the relevant division contacts us, and we connect them with the right teams. We also exchange a lot of knowledge with each other. The headquarters is, of course, located in Rotterdam, where we receive a lot of information, but we also exchange knowledge between the various regions." This includes discussions on sustainability. "The importance of sustainability is also recognized, especially given the rapidly changing global landscape. Think, for example, of the growing relevance of Environmental, Social, and Governance (ESG) criteria, particularly in North Asia."
Steinweg's long history as a reliable partner is a crucial aspect for many customers and business relationships, she explains. "Steinweg has been active in the commodities industry for 176 years. We are well-versed in the complexities of the industry, we understand the global infrastructure, and we have a strong network. Steinweg's ability to provide end-to-end service and use our own infrastructure without heavily relying on external storage facilities instills confidence in customers and financial institutions. As a result, we are a trusted partner for many parties."
Base Metals Italy
Base metals have been a core activity at Steinweg Italy since 1992. At that time, the company primarily operated in the Italian market. After about 20 years, the company was acquired by Steinweg Group. "From that point on, we also took on the responsibility for the central Mediterranean, including Italy, the Balkans up to Greece, and North Africa", says Andrea Bartalini, CEO of the company. The office in Genoa serves as the regional headquarters. "We operate in various regions, such as Slovenia, Croatia, Serbia, Montenegro, Greece and even North Africa, where we collaborate with major manufacturers. We ensure that the material is transported and delivered safely and efficiently. We continue to improve this process continuously."
Base metals still remain the primary commodities for Steinweg Italy, with aluminum being a significant metal in the region. "Today, we mainly operate in the field of non-ferrous metals in the Mediterranean, especially in Italy. We have new warehouses in Genoa, Livorno, Trieste, Gaeta, and we also do business in other parts of the Mediterranean area."
Text continues after image.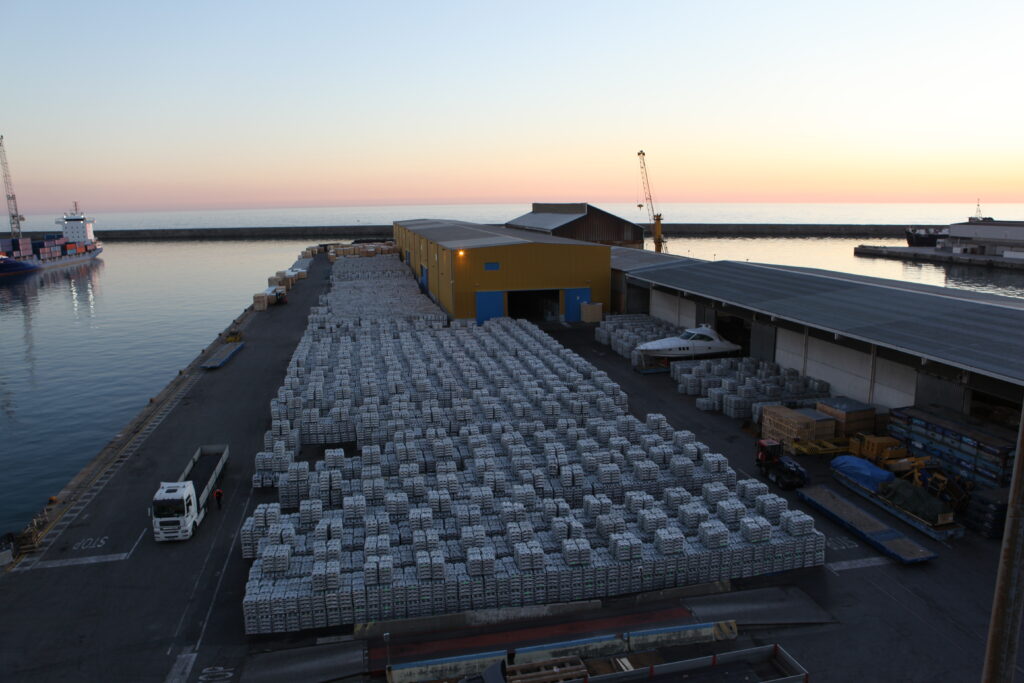 Currently, the main objective is to expand storage space in Italy. "We have projects underway to create additional space, such as new terminals and warehouses. Additionally, we are exploring expansion opportunities in other regions, such as North Africa, and possibly even in Hungary where we like to set up a representation and commercial Steinweg office. We continue to grow and adapt to the market's needs."
In addition to focusing on additional space, Andrea also pays attention to the team. "Our customers value our expertise, and we see more and more people turning to us for advice and guidance. We are recognized as experts and reliable partners in the metal industry. Our global network and local presence enable us to offer a wide range of services and solutions. Looking ahead, we will continue to strive for growth and provide value to our customers, while focusing on creating additional storage space."
Steinweg @ LME week
C. Steinweg Group will be present at LME week in London from 9 to 11 October. Would you like to make an appointment? Send an email to basemetals@nl.steinweg.com.
Published on: 3 October 2023