Bij Steinweg hechten we veel waarde aan een veilige en beveiligde werkomgeving. We opereren op diverse locaties en bieden een breed scala aan logistieke diensten. Dat betekent dat we met verschillende beveiligingsuitdagingen te maken hebben. Rick van Schaik is onze Security Manager. Hoe pakt hij deze uitdagingen aan? Hoe zorgt hij ervoor dat zowel de goederen van klanten als onze medewerkers optimaal beschermd zijn?
De rol van Security
Om veiligheid te waarborgen heeft Steinweg een speciale afdeling die verantwoordelijk is voor de fysieke beveiliging van alle Nederlandse vestigingen. Rick is hoofd van deze afdeling. "Denk bijvoorbeeld aan de toegangscontrole van medewerkers en leveranciers. We hebben een eigen technische dienst die verantwoordelijk is voor de installatie en het onderhoud van de beveiligingssystemen, zoals camera's, toegangscontrole en brandveiligheid. Ook hebben we een eigen meldkamer die rechtstreeks onder mijn verantwoordelijkheid valt. De operationele processen die verband houden met beveiliging en veiligheid worden ook door onze afdeling beheerd. Zo kunnen we snel schakelen en anticiperen op risico's."
Lees verder na de afbeelding.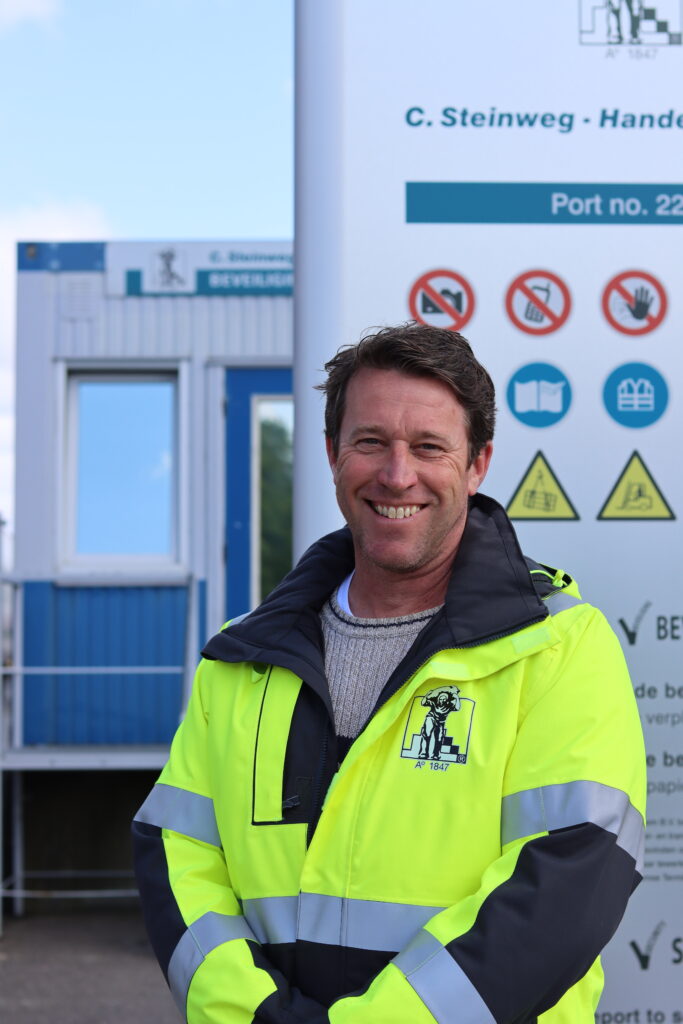 Veiligheid in logistieke processen en omgaan met risico's
Naast deze fysieke beveiliging gaat Security ook over de veiligheid van logistieke processen, die al buiten het bedrijf beginnen. "Aan dat hele proces kleven veel risico's. Onze logistieke sector heeft een dienstverlenende (open) insteek waar kwaadwillende 'dankbaar' gebruik van kunnen maken. Openheid en transparantie zijn belangrijke aspecten binnen Steinweg. Tegelijkertijd maakt dat je organisatie kwetsbaar." Steinweg is zich bewust van de risico's in de logistieke sector, zoals drugssmokkel en fraude. "We werken met duidelijke protocollen en procedures om verstoringen in het logistieke proces te melden en aan te pakken. Als er bijvoorbeeld iets misgaat met een container of vrachtwagen, neemt Steinweg direct contact op met de relevante partijen, zoals de douane en de klant, om samen de beste oplossing te vinden."
Samenwerking met externe partijen voor veiligheid
Om die veiligheid te handhaven, werkt Steinweg samen met verschillende externe partijen, waaronder de Rotterdamse havenautoriteiten, douane, politie en het HARC-team. Het Hit And Run Cargo (HARC) team is een samenwerkingsverband van douane, FIOD, zeehavenpolitie en het Openbaar Ministerie in Rotterdam. Het HARC-team is opgericht om drugssmokkel in Rotterdam tegen te gaan. "Regelmatig overleggen we met de beveiligingsmanagers van verschillende bedrijven. We wisselen informatie uit, zodat we snel kunnen schakelen bij een mogelijk incident of probleem. Belangrijker nog is dat we verstoringen in het logistieke proces met elkaar kunnen voorkomen, omdat we elkaar scherp houden."
Certificeringen als waarborg voor beveiliging en veiligheid
Diverse certificeringen waarborgen de beveiliging en veiligheid van Steinweg. "We voldoen aan strenge internationale beveiligingseisen, zoals de ISPS-code voor het ontvangen van schepen en de AEO-certificering vanuit de douane. Deze certificeringen zijn van groot belang, gezien de verschillende locaties en logistieke processen van Steinweg. Beveiliging speelt een cruciale rol bij het waarborgen van de veiligheid van de goederen en het voldoen aan de eisen van klanten en partners."
Security als onderdeel bedrijfscultuur
Rick vertelt dat Steinweg beveiliging niet als een 'moetje' ziet, maar het als een integraal onderdeel van de bedrijfsvoering waardeert. Hij werkt dan ook veel samen met andere afdelingen van Steinweg, zoals operationele afdelingen, commerciële afdelingen, de technische dienst, HR en de afdelingen die betrokken zijn bij audits. "Beveiliging wordt als een belangrijk onderdeel van de bedrijfscultuur gezien. We doen het niet alleen omdat het moet van verzekeraars, certificeringen en klanten, maar omdat we het willen. Dat maakt ook waarom ik dit al tien jaar met plezier doe. Daar is Steinweg echt onderscheidend in."
Lees verder na de afbeelding.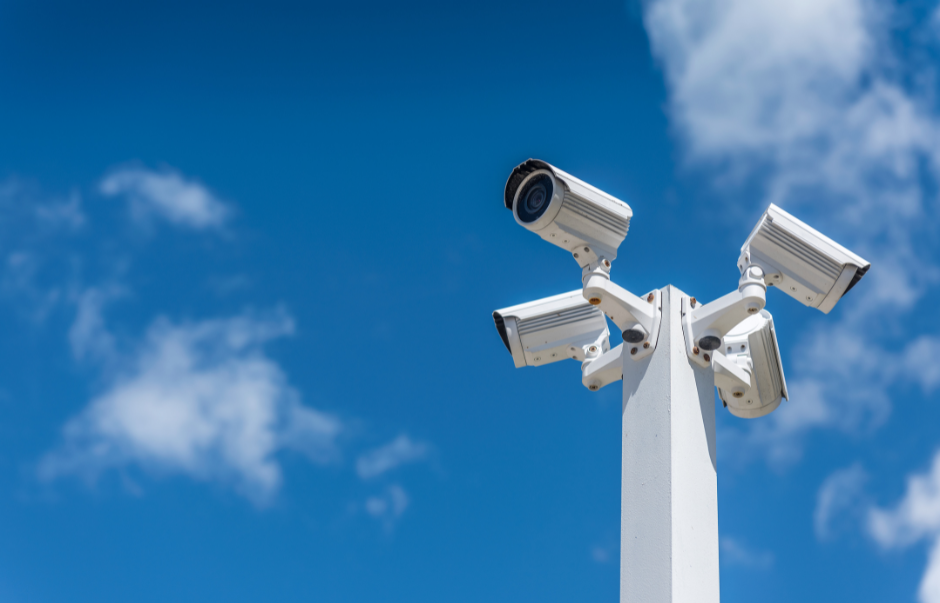 Investeren in technologische oplossingen
Om risico's te minimalieren is het belangrijk om processen en systemen continu te ontwikkelen en verbeteren. Rick kijkt daarbij ook naar technische toepassingen. "We investeren in technologische oplossingen om processen efficiënter en veiliger te maken. Momenteel werken we aan de implementatie van geavanceerde systemen, zoals kentekenherkenning en paspoortreaders, om het toegangsbeheer te verbeteren en handmatige processen te verminderen."
"We hebben het goed voor elkaar"
Rick is trots op zijn afdeling en de positie van Steinweg. "Zeker fysiek zijn we heel goed beveiligd. We ondervinden nauwelijks tot geen problemen op onze locaties. Daar hebben we het gewoon goed voor elkaar, mede dankzij de brede betrokkenheid vanuit de organisatie. Als er iets is, dan is dat in de keten, in het logistieke proces. Daar hebben we in de nasleep dan last van. Maar dat kun je simpelweg niet altijd vermijden. Zaak is dan om snel en goed te schakelen. Dat kunnen we en doen we ook, omdat we het juiste netwerk om ons heen hebben. Klanten waarderen de snelle reactie en samenwerking bij eventuele incidenten."
Gepubliceerd op: 24 augustus 2023