There are roughly two types of project cargo (PC). Firstly, large pieces that do not fit in a container, such as a ship's engine. Secondly, project cargo is the cargo of a complete project; a factory or power plant being built. Each Steinweg location has its own focus on project cargo. This has to do with the geographical location, whether it has its own terminal, the type of projects and the types of cargo. Rotterdam, for example, has its own large terminals, while Belgium redeveloped their multipurpose terminal into a dry-bulk and steel focused terminal. In order to give a complete picture of the possibilities of project cargo within Steinweg, we interviewed five of our people, in Rotterdam, Belgium, Turkey and South Africa.
Netherlands: own terminals and new industries
Frank Mutsaers carries out acquisitions for project cargo. He is not only in contact with forwarders, but he studies the entire chain. "If you take a step back and look at the entire chain involved in, for example, building a factory, it is interesting to analyze who needs transshipment at what time." The answer is different for every project, says Frank. "By delving deeper into the chain, we understand the industry better, we know more about the project, and we can take a controlling and steering role at an early stage. Having said that, no matter how the supply chain management structure of a project turns out, we respect the roles of every type of company in the chain and are open to cooperate with different parties."

Frank says, that from the perspective of our supporting services, it is a thin line between the PC industry and the offshore industry. Therefore, we added offshore services to our portfolio years ago. "Think of handling oversized cargo, like parts of wind turbines, but also the vessels of the large offshore parties such as Allseas and Boskalis come to our quay for support."
Text continues after image.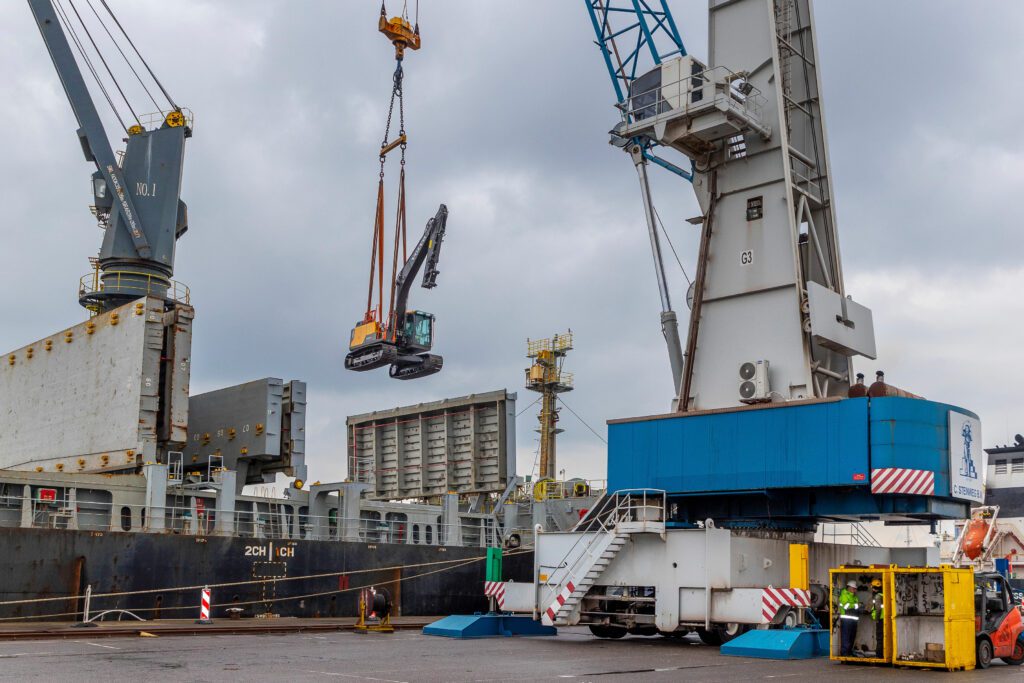 Rodney van der Winden is commercially responsible for project cargo. "That means sales, but I often also help out in the operation." He is therefore in contact with colleagues in the office and the dockers on the work floor at the terminals. Project cargo is a knowledge intensive division, he says. "It always involves large, complex cargo. This requires a different treatment than transporting, storing, and transshipping containers. You have to deal with overweight, oversize and critical aspects like centre of gravity (COG). Good preparation, project management and technical knowledge are essential to handle cargo safely, properly, and efficiently." And so are reliable partners, who have the right equipment. "For example, large cranes for special lifting of heavy loads, for which we call our local supplier of floating cranes. And so, we have many more partners with whom we work together."
Belgium: the role of total service provider
Reginald van Hissenhoven is responsible for all projects and breakbulk for Steinweg Belgium. "We assist industries, companies and energy, procurement and construction (EPCs) organizations with the logistics side of a greenfield or brownfield project." Consider for example a factory, power plant or refinery that is being developed. "We ensure that the unit can be assembled, we supply all the parts one by one. Timing and the right sequence are crucial." You can say they act as transport architects. Also, for the oil and gas (O&G) and mining sector their knowledge of the specific logistic processes for these industries come in handy.
Text continues after image.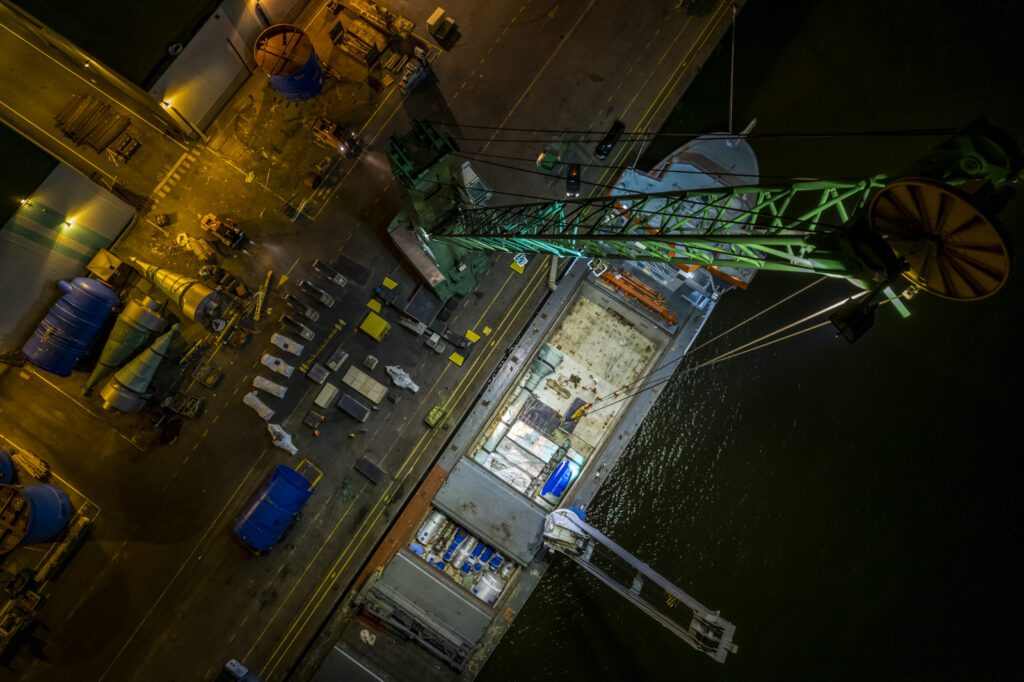 Team project cargo Belgium consists of eight people. Reginald's team takes on more of a freight forwarder role. "For example, we will pick up a large piece in Germany, we will supervise it and deliver it to the project site. We guide the entire process from A to Z for the customer. Also cross-trade shipments are frequent. We might, for example, have a vessel loading in China or India for unloading in Chile without cargo calling the port of Antwerp."

Complete unburdening clients from A to Z also means good and intensive contact with partners, says Reginald. "Important links are the shipping lines. We maintain these contacts well, so we know who to turn to for which cargo. Not every ship can handle pieces with unit weights of 300 or more tons, for example. Other partners are transporters, crane companies and terminals." Most of our customers are located in Europe. The average lead time of a project, depending on the type of project, is about two to three years. "We are currently offering something. If the financing is in place, then we are talking about a two-year period until it is produced and ready for shipment." Geopolitics also plays a major role in this, says Reginald. "A project like this involves a lot of money. This includes the necessary permits which must be issued. Otherwise, a project that takes years of work will end up in the bottom drawer and never be developed."
Turkey: important hub due to good geographical location
Mehmet Uysal has been working at Steinweg Turkey for more than eight years. Before that, he was a logistics manager at an EPC in the energy sector. With his knowledge of project cargo on the customer side, he now works as project cargo manager for Steinweg Turkey. Steinweg Turkey has its own bonded warehouses in every region of Turkey, which are also used as reloading hubs in transit. Project cargo is therefore more about project cargo forwarding and multimodal shipments, as is similarly the case in Belgium.

Turkey is geographically located between Asia, the Middle East and Europe. This has a major impact on the logistics sector. "We are in between these continents. In political terms this is often a disadvantage, but logistically it has many advantages. Not only for Turkey itself, but also for the hinterland countries, such as Georgia, Azerbaijan, Kazakhstan, Uzbekistan, Kyrgyzstan, and Tajikistan. All developing countries that are in our forwarding route. That is why Turkey has become a region for CIS countries for Steinweg, because all shipments go through Turkey. That also applies to Iraq in the Middle East and the Balkan countries, a lot of cargo goes via Turkey."
Text continues after image.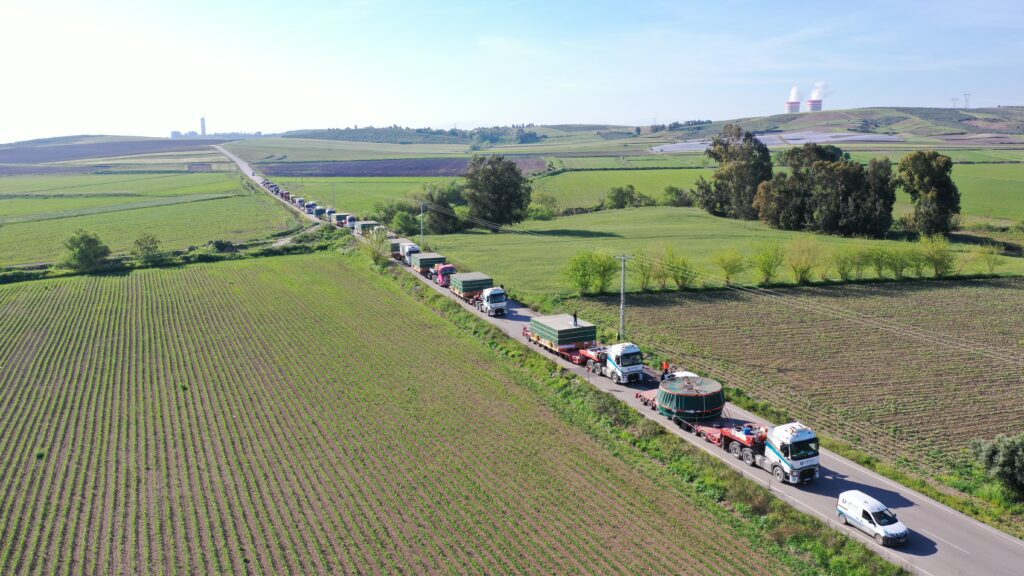 Projects range from hydropower plants to gas and petroleum projects, wind projects, but also mining. Project cargo also covers projects that have a continuous flow. "For example, we transport metals from Kazakhstan to the Caspian Sea Port by wagons. We cross the Caspian Sea by breakbulk vessels and then load the metals onto trucks and rail containers in Azerbaijan to take them to Turkey."
Mehmet's team consists of 15 people. Recruiting and retaining good people, with the right knowledge of logistics and technology, is an important point of attention for him. "It is not always easy to find the right people who have knowledge of both logistics and engineering. We therefore invest a lot of energy in finding talented young people and training them inside the company to keep our core competence as a team."
South Africa: reliable services and a good reputation
Michelle Tinkhof, managing director of Steinweg Africa, focuses on all imports and projects for Africa. "Project cargo requires special handling, which requires the right knowledge." Most projects are for the mining and energy sector.
The Africa projects team focuses on the full supply chain on coordinating and managing a project on behalf of the mining houses, EPC's, traders, and suppliers. Where the focus in logistics in Africa used to be mainly on export cargo, inbound cargo has also become larger in recent years. "We have the capacity to do the full scope of work for our clients, including freight forwarding, chartering, port operations, transport, warehousing, customs clearances, route surveys, and so more. Reliable and specialized contractors and staff are essential for the successful movement of project cargoes."
Text continues after image.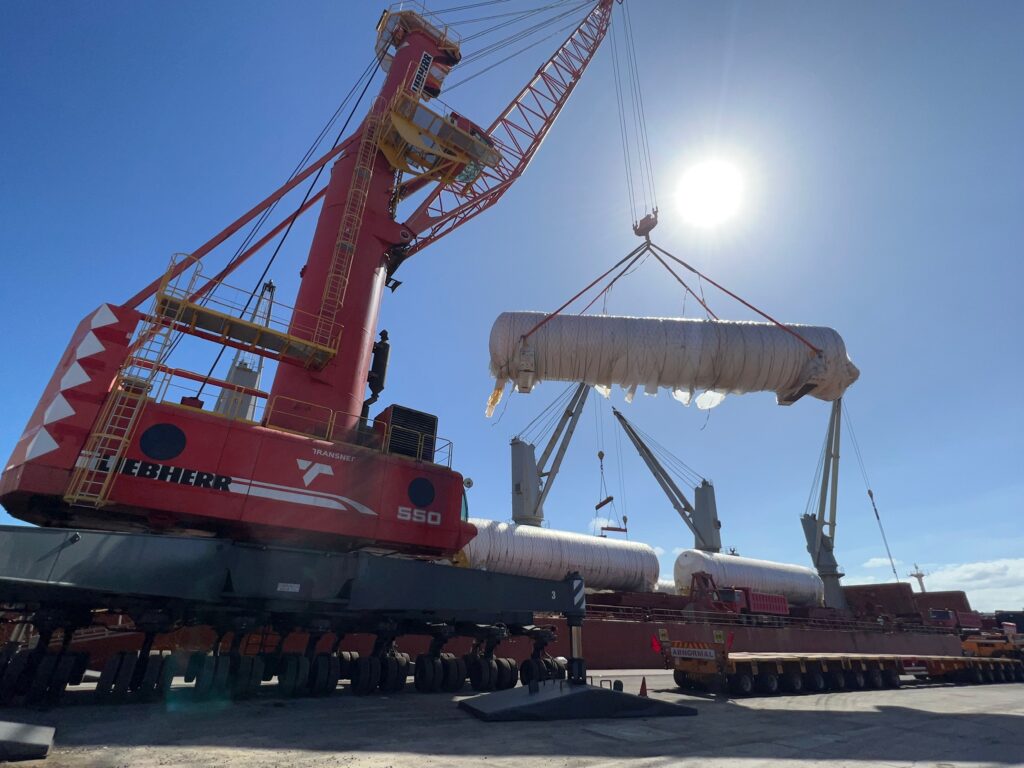 Michelle and her team therefore invest a lot of energy in the relationship with contractors and the training of the staff on the ground. We offer our project clients a reliable, safe and cost-effective service. We believe that is what sets Steinweg Africa apart from other players and why companies like to do business with Steinweg Africa. "Project cargo requires a specific skill set. We have the right knowledge and experience, our own specialized people at the terminals and good partners. That makes our services unique, in combination with the good, international reputation of the Steinweg Group. This is especially important in Africa, because there are many parties who have no idea what they are doing, do not have the right knowledge. There is a lot of corruption and theft going on. With our reliable, high-quality service, Steinweg is therefore truly unique."
Meet our experts at Breakbulk Europe
Steinweg will be present at the Breakbulk Europe fair, from 6-8 June in Ahoy Rotterdam. Meet our team, learn more about our approach and global possibilities. We look forward to welcoming you to our stand: Hall 2 B34-C35.
Published on: 2 June 2023